The Importance of Hydration For Eye Health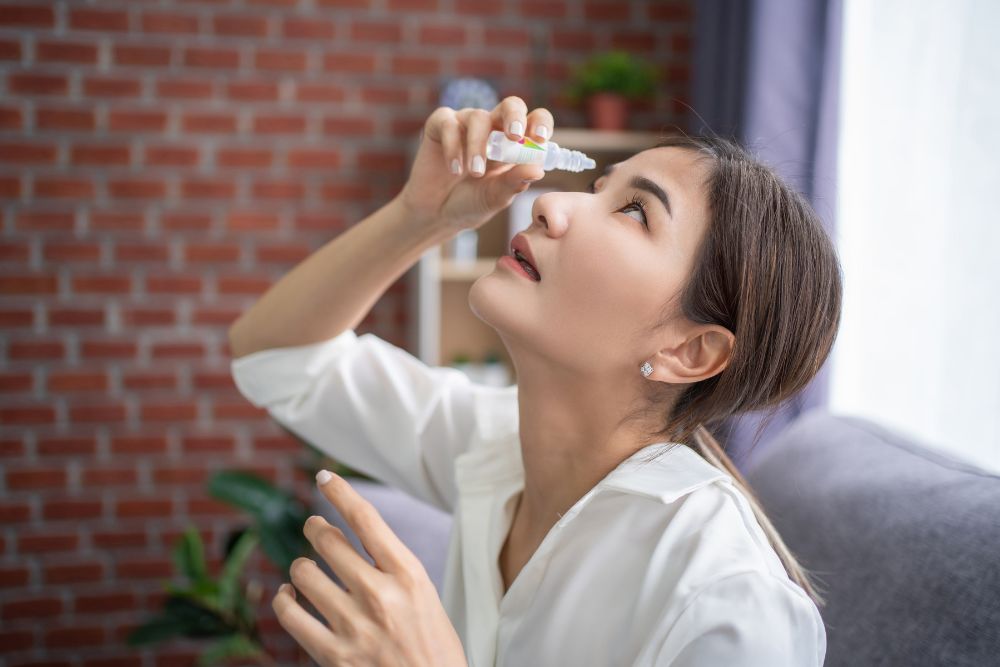 Although conventional wisdom says that we should drink eight 8-ounce glasses of water, it's estimated that 75% of Americans may be chronically dehydrated. This is serious, as proper hydration is essential for all aspects of health, including the health of our eyes. Hydration plays an important role in processes such as tear production, eye pressure, and blood flow. It also improves retinal conditions, like dry eye disease and diabetic retinopathy.
The Role of Hydration In Eye Fluids
Our eyes are no strangers to water, as it's the main component of various eye fluids. Water is also key to another vital fluid – blood. Drinking enough water helps to ensure healthy ocular blood function, including its purification and maintaining blood flow to and from and within the eyes.
The Vitreous
The vitreous, also called the vitreous gel or humor, fills most of the eye's volume and maintains its structure. The vitreous is made up of 98-99% of water.
The Tear Film
The tear film is made up of oily, mucous, and aqueous (watery) layers that surround the eyes. Besides the aqueous layer, water also comprises most of the mucous layer. These layers work together to keep your eyes' surface lubricated, moisturized, smooth and clear. The tear film also promotes benefits for wound healing, inflammation, and infection.
The Aqueous Humor
The tear film's most important component, the aqueous humor is made up of 99.9% water. When you blink, it washes away debris and dust. Its other responsibilities include:
Providing inflation to expand the cornea, boosting protection against dust, wind, pollen, and pathogens.
Providing amino acids and glucose to nourish the lens and cornea.
Providing the eye's shape.
Maintaining internal eye pressure.
Transporting vitamin C to act as an antioxidant.
Without sufficient hydration, the aqueous fluid can become irritated and the eye's surface can deteriorate, resulting in blurry vision. You may also experience a lack of tear production.
How Hydration Affects Common Eye & Retinal Function
As hydration is integral to your eyes' function, it's not surprising that drinking enough water reduces certain eye and retinal condition risks.
Dry Eye Disease
Regular tear production can prevent dry eye disease, a common condition. Among its possible symptoms are limited visual clarity, blurred vision, headaches, burning, floaters, light sensitivity, and problems wearing contact lenses. Drinking more water increases your body's tear production, which prevents dry eyes. This also enables your tear glands to produce tears that don't evaporate too quickly.
Glaucoma
Dry eye syndrome is associated with glaucoma, and they often occur together. Studies suggest that 40-50% of glaucoma patients have dry eye syndrome, with women more at risk. Proper hydration is vital with glaucoma, as it helps maintain intraocular pressure.
Cataracts
If your eyes are constantly dehydrated, this can make proteins bind together, causing your eye's natural lens to cloud over, forming cataracts. But proper hydration can slow cataract development, preserving clear vision.
Diabetic Retinopathy
Hydration and diabetes, and particularly diabetic retinopathy, are all closely associated. Aging may worsen certain diabetes symptoms that increase dehydration risks, including increased thirst, reduced total body water, and fluid levels, and polyuria (excessive urination). Lower hydration levels in older adults are associated with increased diabetic retinopathy risks.
Proper hydration is crucial for your eye health and can reduce your risks for retinal conditions. If you have any questions, we encourage you to contact Retina Group of Florida.