Top 5 Risk Factors for Age-Related Macular Degeneration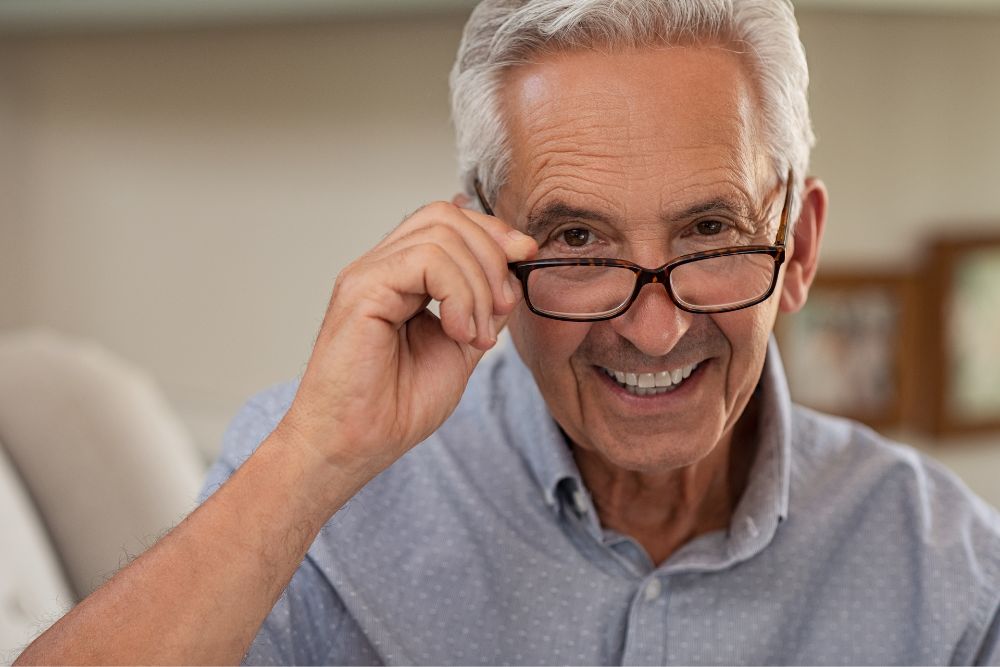 If you're 50 years or older, you're probably familiar with age-related macular degeneration (AMD). While you can't avoid the passage of time, some risk factors can be effectively managed in order to reduce this condition's progression and preserve your existing vision. You can make certain lifestyle changes to better control underlying conditions and avoid harmful behaviors found to promote AMD.
Uncontrollable Age-Related Macular Degeneration Risk Factors
If you have age-related macular degeneration, know that you're not alone. An extensive 2022 study found that in 2019, an estimated 19.83 million Americans had some form of this condition.
Aging
This number will only increase as the world's population grows older; healthcare experts expect the number of AMD patients to approach 288 million by 2040. About 1 in 10 Americans 50 and older (about 18.34 million) have the early, more common dry, or atrophic, form. Meanwhile, about 1 out of every 100 Americans 50 and older (about 1.49 million) have the rarer, more advanced wet, or exudative, form. This group includes patients with geographic atrophy, a serious, late-stage dry AMD complication. Among those 80 and older, approximately 3 in 10 have dry AMD, while about 1 in 10 have the wet form.
Family History and Genetics
Your family history may play an important role in your risk for AMD development, with multiple genes linked to the condition. Women are also more likely to develop AMD, as they live longer. Having light-colored irises — the colored tissue that helps control pupil size to let light into the eye — may double your AMD likelihood. Lighter iris color means less pigment, allowing more light to penetrate the eyes and reach the retina's light-sensitive cells.
Manageable Risk Factors for AMD
Certain common risk factors with this condition may be controllable, and doing so may not only reduce your chances of developing AMD but benefit your general health and wellness.
Avoiding Harmful Behaviors
Reducing or completely removing unhealthy activities is recommended. Tobacco use is the risk factor most consistently associated with AMD, including smoking cigarettes and regular tobacco exposure. Research shows that current smokers have a 2-3 times higher risk than nonsmokers, and this only increases with the smoking's intensity.
Address Underlying Conditions
With AMD, it's essential to manage any unchecked conditions, such as diabetes. You'll also need to maintain your cardiovascular health, including blood pressure and cholesterol levels. You should ensure a healthy overall weight, especially around the abdomen. Research suggests that being obese may increase the likelihood of early or intermediate macular degeneration progressing to the more severe wet form.
Take Proper Sun-Protection Steps
For people with AMD, it's recommended that you avoid long-term, unprotected exposure to sunlight and its harmful ultraviolet (UV) light. If you must be outdoors for long periods, it's important to always protect your eyes by wearing sunglasses and a hat.
Regular Ophthalmologic Visits Are Essential With AMD
If you are diagnosed with age-related macular degeneration, it's important to schedule regular dilated eye examinations with your ophthalmologist. If you are between 40 and 54, we recommend a visit every 2-4 years, depending on your health needs. Patients over 55 should schedule an exam at least every 1-2 years. You can also monitor your vision at home every day with an Amsler grid, a simple paper chart. It detects any persistent changes, including seeing wavy, blank, missing, or blurred lines. If any of these are observed, the change should be reported to your doctor immediately, as early detection can help prevent vision loss.
Identify AMD Risk Factors To Preserve Vision
While age-related macular degeneration is a growing concern, certain lifestyle changes can help you manage some risk factors, allowing you to slow its progression and keep your remaining vision. For any questions, or to schedule an AMD exam, we invite you to schedule a consultation with Retina Group of Florida.