Digital Eye Strain: How to Protect Your Retina in the Digital Age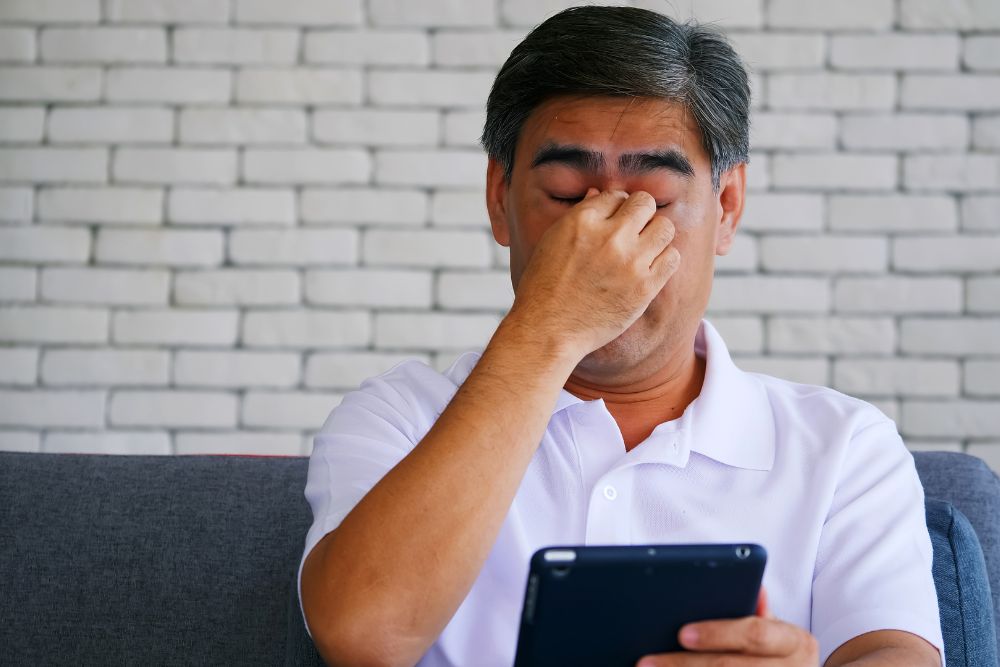 The prevalence of digital screens, from computers to smartphones, has become an integral part of modern life, with the average American spending over seven hours daily looking at screens. This trend raises concerns about its impact on vision, particularly on retinal health, contributing to issues like myopia and age-related vision loss. To mitigate these risks, it is crucial to limit screen time and undergo regular eye exams for preventive measures, safeguarding the retina and preserving overall vision.
Digital Eye Strain, Blue Light, Retinal Health, and Vision
Excessive exposure to blue light emanating from digital screens has long been associated with various short-term eye-related issues, such as eye strain and dryness. However, there's also a concern that specific wavelengths can possibly cause retinal damage, potentially contributing to the development of age-related macular degeneration (AMD) over time.
While there is ongoing debate about the long-term impact of blue light and digital eye strain on vision, several studies indicate their effects on the cornea and lens. High-energy short-wave blue light can penetrate the cornea, triggering the production of reactive oxygen species (ROS), which are hyper-reactive free radical molecules. These ROS can lead to cellular damage and even cell death. Moreover, the lens, which usually absorbs short-wave blue light to protect the retina, undergoes changes in color and transparency due to this absorption, potentially contributing to the formation of cataracts. Additionally, some research suggests that blue light might directly harm the retina's photosensitive cells, potentially accelerating the onset of AMD.
While the precise impact of blue light on retinal health is still being explored, the short-term consequences are evident in the form of digital eye strain. This condition manifests as discomfort, blurred vision, dry eyes, and headaches, disrupting one's ability to focus and function effectively, especially during prolonged screen time. It's important to note that digital eye strain isn't solely caused by blue light exposure but is also influenced by the duration of screen use, often exacerbated by poor posture and inadequate lighting.
Protect Your Vision Against Digital Eye Strain
As researchers continue to investigate the long-term effects of digital eye strain and blue light exposure, it remains essential to be mindful of our screen time habits to mitigate potential risks to vision and overall eye health. While avoiding all digital screens and sources of blue light is impossible for the average person, there are numerous self-care measures that people of all ages can incorporate into their lifestyles to protect their vision and retinal health. Some of these measures include:
Spending less time using digital devices, including smartphones
Giving your eyes frequent breaks when working on close-up activities
Holding digital devices at a greater distance from your eyes.
Improving lighting in your home
Practicing the 20/20/20 rule, where you look 20 feet away from your screen after 20 minutes for 20 seconds
Using blue light filters in your devices
Wearing glasses that block blue light
If you have AMD or are at risk and are concerned about digital eye strain and blue light, we encourage you to contact Retina Group of Florida and schedule an appointment for a comprehensive retinal exam.