Dry Age-Related Macular Degeneration & Geographic Atrophy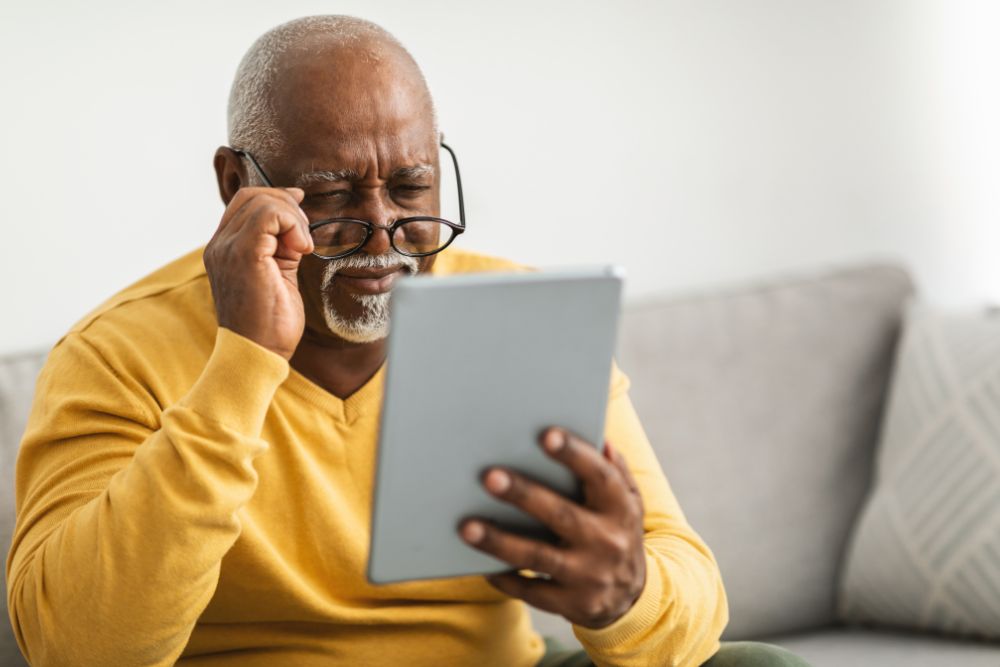 Are you or someone you love living with age-related macular degeneration? If so, you know the importance of having regular dilated eye exams. AMD is the leading cause of blindness and vision impairment in Americans 60 years and older. An estimated 288 million cases worldwide are expected by 2040. But with ophthalmologic exams, symptoms can be identified earlier, enabling faster treatment.
What To Know About Dry AMD
Dry, or atrophic AMD, is the more common form of the condition, accounting for about 90% of all AMD cases. It can affect one or both eyes. In the earliest stages of dry AMD, there may not be any signs or symptoms; in some cases, patients aren't even aware that there's an issue until their eye doctor detects abnormalities during a routine dilated eye exam. When vision loss does occur, it develops slowly and gradually. Common symptoms of dry AMD include:
Blurriness
Distortions
Dark areas
Difficulties seeing in the dark
Difficulties making out contrasts
You may also develop drusen, which are small, yellowish deposits of cellular debris that accumulate in the retina. As dry AMD advances, the number of drusen as well as size typically increases. Drusen can only be seen during a dilated eye exam and are one of the primary indicators that retina specialists use to monitor dry AMD.
Geographic Atrophy Risk Factors & Symptoms
In the later, more severe stages of dry AMD, a serious condition known as geographic atrophy can develop. Geographic atrophy is responsible for approximately 20% of all legal blindness related to AMD. The condition affects a specialized tissue within the eye called retinal pigment epithelium (RPE), which is an important component of the retina's metabolic processes. When drusen accumulate under the retina, it can cause RPE cells to die, increasing central vision loss. You may experience such symptoms as:
Central vision difficulties
Trouble seeing in low light
Dull or washed-out colors
Reduced visual acuity (sharpness and clarity)
Scotomas, blind spots in or near the central field of vision
Permanent vision loss may develop
The cause of geographic atrophy is not fully understood, but certain dry AMD risk factors may increase your chances of geographic atrophy development. These include:
Being 50 years or older
Having a family history of AMD
Underlying chronic conditions (e.g. diabetes, hypertension, etc.)
Smoking
Obesity
Unprotected exposure to sunlight
Race
Dry AMD and Geographic Atrophy Management & Treatment
Currently, there are no cures for dry AMD or geographic atrophy. However, a supplement formula known as AREDS2 is available over the counter and has been shown to help reduce the risk of dry AMD getting worse. Be sure to talk to your doctor to see if AREDS2 supplements are right for you.
Ongoing clinical trials and worldwide research for dry AMD may soon prove successful. For example, a breakthrough medication, called pegcetacoplan, is awaiting Food and Drug Administration (FDA) approval and is expected to become available in February 2023.
If you are diagnosed with dry AMD, it's crucial to monitor your vision daily so that you can detect vision changes and visual distortions immediately. You can use an Amsler grid, which is a simple paper grid. You just look to see if there are any broken, curved, or distorted lines, as this may indicate AMD. If you do, contact your retina specialist immediately.
Get Advanced Care for Dry AMD and Geographic Atrophy
Regular dilated exams are essential with dry AMD. This enables doctors to detect it earlier before geographic atrophy develops, thus improving your chances of preserving your vision. If you've been diagnosed with dry AMD or have questions, please contact Retina Group of Florida for an appointment.