How Diabetes Affects Vision Health & the Retina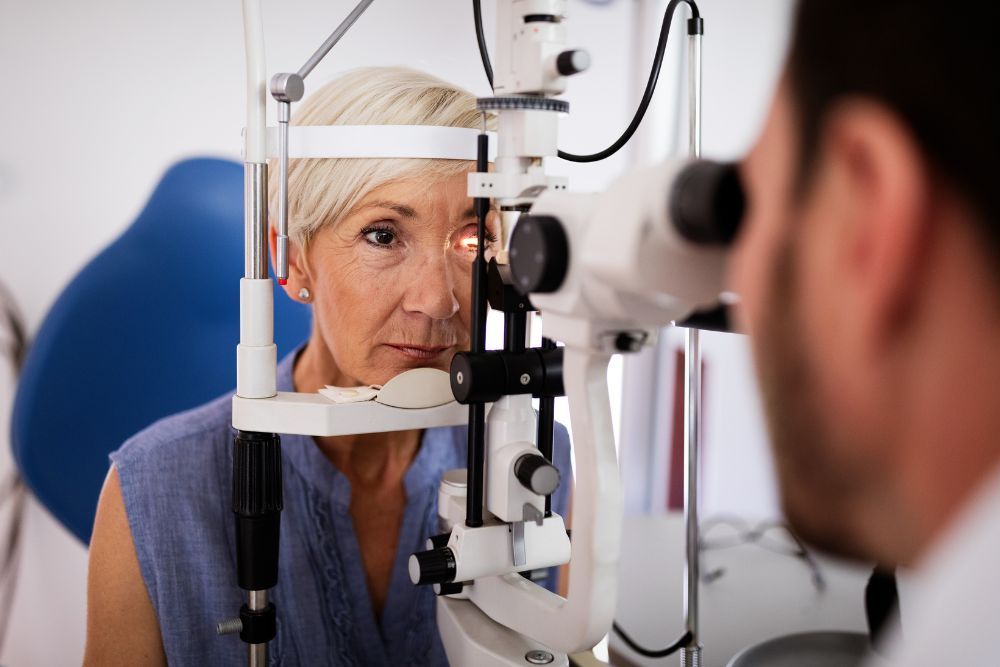 According to the Centers for Disease Control and Prevention's (CDC) National Diabetes Statistics Report, an estimated 37.3 million people in the United States have either type 1 or type 2 diabetes, with about 23% of cases being undiagnosed. For vision health, diabetes is a prominent health concern, affecting your eyes in multiple ways. Depending on various factors, the retina and other parts of the eye may be at risk for diabetes-related disorders. One of the most common vision problems caused by diabetes complications is diabetic retinopathy, which is also the leading cause of blindness in adults ages 18 to 64. If you have type 1 or type 2 diabetes or are at risk of developing it, safeguarding your vision is crucial.
Diabetic Retinopathy
Diabetic retinopathy targets about 40-45% of people with diabetes. It involves chronic high blood glucose levels, which gradually weaken the walls of the retinal blood vessels. Microaneurysms (i.e., small red bulges) and blisters may develop in the retinal vascular tissue, causing blood to leak into the retina and potentially cutting off the retina's supply of crucial nutrients.
A progressive disease, proliferative diabetic retinopathy (PDR) is the most advanced form. PDR is characterized by a process called neovascularization, in which new blood vessels grow beneath the retina. Unlike regular blood vessels, however, these new vessels are abnormal, very fragile, and prone to breakage, which causes fluid and blood to seep into the macula, the retina's center. This can cause a wide range of symptoms, including blurred central vision and visual distortions. If left untreated, PDR can result in permanent vision loss.
Another complication of diabetic retinopathy is diabetic macular edema (DME), which is when the macula swells. DME causes blood vessels to leak into the macula, damaging your central vision. DME can also disrupt the retina's blood supply. If untreated, irreversible macular damage and permanent vision loss can occur.
Diabetes and Other Vision Conditions
Outside of diabetic retinopathy, diabetes can also cause various other vision conditions, including:
Vitreous hemorrhage – This involves heavy bleeding within the vitreous (i.e., the clear, gel-like substance that fills the eye).
Cataracts – This condition causes the lens of the eye to become cloudy and is particularly common in patients over the age of 65. Symptoms of cataracts may include cloudy or blurry vision, faded colors, glare, poor night vision, double vision, and frequent prescription changes.
Neovascular glaucoma – With this condition, unusual blood vessels grow on the iris (i.e., the colored tissue at the front of the eye), resulting in high intraocular pressure. Symptoms may include pain, redness, and decreased vision, although none may develop early on.
The Value of Regular Diabetic Eye Exams
No matter your age, if you have type 1 or type 2 diabetes, it is crucial that you follow proper diabetes management as prescribed by your doctor, including taking insulin and other medications, as well as maintaining a healthy weight. Patients with diabetes often must also be mindful of their blood pressure and cholesterol levels.
As for vision health, the best way to prevent or slow the progression of various retinal and eye conditions is to have regular diabetic eye exams with a retina specialist. This makes it possible for your doctor to catch diabetes-related vision conditions in their earliest stages when they're easier to manage or treat. This is especially important because in many cases, there may be no signs or symptoms that anything is wrong with your vision. Unfortunately, many patients with diabetes wait until they're experiencing vision symptoms to see an eye doctor, at which point, the condition may be more advanced or difficult to treat.
Visit a Diabetic Eye Specialist in Florida Today
If you have diabetes or are at risk of developing it, and haven't seen an eye doctor in a while, consider this a strong reminder that it's time to schedule a diabetic eye exam. To request a consultation with a diabetic eye specialist in South Florida, please contact Retina Group of Florida today.