Retinal Photography and Advanced Imaging at Retina Group of Florida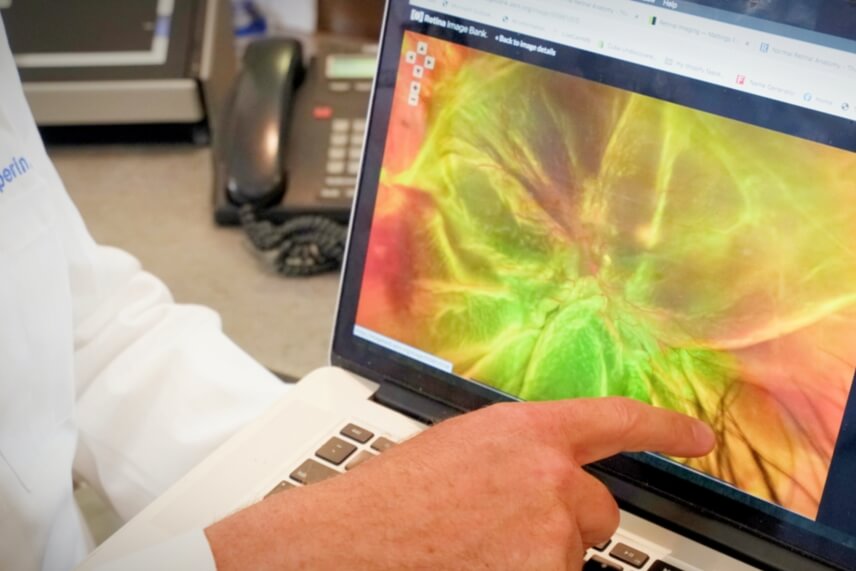 During your visit at Retina Group of Florida (RGF), you will likely undergo imaging of your retina as part of your retinal evaluation. A member of our highly skilled and experienced photography department will acquire these images while making the process as easy for you as possible. When you think of a photographer, you might imagine a wedding photographer or a photographer for family portraits. Our retinal photographers have similar professional level experience in photography but tailored specifically towards imaging of the retina and other ophthalmic structures. Retinal photography requires considerable dedication, skill and expertise. There are many different imaging techniques that are utilized to image the retina. The decision of whether any retinal imaging is necessary and what type you may receive during your visit at RGF will be determined after a thorough initial evaluation by your retinal specialist. Most retinal imaging requires dilation of the pupil of your eye (the colored part) so this should be something to expect with every visit to our office.
Retinal photography encompasses much more than simply taking a photograph of the retina. There are a number of types of imaging tests that may be used to document and evaluate different parts of the retina. Different kinds of advanced cameras specifically designed to image the retina are used. Combining our skilled photographers with these advanced cameras, we are able to image a wide array of retinal diseases, which helps to determine your diagnosis and/or treatment plan. The retina itself is the light-sensitive layer of the back of the eye and is made up of many layers, which include blood vessels coursing through it. The most basic imaging test of the retina is termed 'fundus photography'. This is simply a color photograph of all or part of your retina. Some retinal conditions require visualization of the blood flow within the retina. This imaging of retinal blood flow is accomplished by conducting a fluorescein angiogram, which is also referred to as an "FA" or "dye test". An experienced retinal photographer with specialized intravenous infusion training will inject the fluorescein dye via a vein in your hand or arm. This dye is different than contrast dye you may be familiar with, which is used during various radiographic tests such as a CT scan. At the same time that the dye is infused, specialized images are taken of the retina and retinal blood vessels with an FA camera. This camera uses special filters to isolate the retinal blood flow and highlight abnormal areas of "leakage". Fundus photos and FA have served as the mainstay of retinal imaging for many years. Although they are both still used today, there are newer imagining methods, which are becoming even more common.
The most common retinal imaging that you will encounter in our office as a patient today is optical coherence tomography (or OCT). This imaging technique is cutting edge and has revolutionized the way retinal care is delivered. OCT technology became widely available in the late 1990's and has undergone multiple advancements since this time. The latest version of OCT allows the acquisition of ultra-high resolution images of the central portion of the retina, which is specifically referred to as the macula. The macula is the part of the retina responsible for straight-ahead vision and allows you to see things such as reading material, videos, and recognizing faces. OCT allows visualization of the macula in cross section at microscopic resolution using light waves in a similar fashion that ultrasound uses sound waves. OCT aids in the detection and treatment of a wide array of diseases. One of the most common conditions that affects the macula is age-related macular degeneration (or AMD). Traditional OCT imaging is critical in managing this disease and aids your retinal specialist to confirm a diagnosis and decide when, or if, treatment is necessary. The newest form of OCT is termed OCTA, where the "A" stands for angiography. This allows for non-invasively imaging the blood vessels within the retina. OCTA is not universally available currently but RGF has access to this cutting edge technology in a number of our office locations.
Retina Group of Florida's retinal specialists have world-class training and experience to determine an individualized diagnostic plan for you to help identify and treat your retinal condition. Our retinal photographers have the expertise and compassion to guide you through any necessary diagnostic imaging in a comfortable and efficient manner. When you are in our office, rest assured that we have access to the latest retinal imaging technology. We look forward to your visit.